Vintage Haviland Clock Blue Garland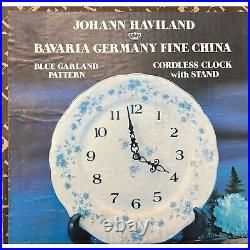 Title: Vintage Haviland Blue Garland Dinnerware Set - Elegance from Mid-20th Century Europe Description: Experience the timeless elegance of Haviland Blue Garland, a classic dinnerware pattern crafted in Europe during the mid-20th century. Haviland's renowned porcelain craftsmanship and the delicate Blue Garland motif make this collection a cherished piece of European porcelain history.
Key Features: Classic Design: The Blue Garland pattern, produced in the mid-20th century, showcases delicate blue flowers and intricate gold trim on pristine white porcelain, exuding an air of sophistication and grace. Superior Craftsmanship: Haviland is synonymous with exquisite porcelain, and this dinnerware set lives up to that reputation with its exceptional quality and attention to detail. Versatile Usage: Whether for formal gatherings or everyday dining, this collection offers timeless elegance that complements any occasion. Complete Set: Enhance your dining experience with a variety of pieces, including dinner plates, salad plates, soup bowls, cups, and saucers.
Collectible Beauty: Haviland Blue Garland is not just dinnerware; it's a collectible piece of European porcelain history that adds a touch of luxury to your table. Specifications: Pattern Introduced: Mid-20th century Material: Fine Porcelain Dishwasher Safe: Hand washing recommended for preserving gold trim Indulge in the elegance of European craftsmanship with Haviland Blue Garland. Whether you're an avid collector seeking a treasured addition or desire sophistication in your dining experience, this vintage dinnerware set embodies the artistry and refinement of mid-20th century Europe. Secure your piece of history and elevate your dining ambiance today. Hand Wash Condition: New With Box New in Box, although box is very old.