Ming Dyn. Blue & White Footed Fruit Plate! Wedding Gift with Mandarin Ducks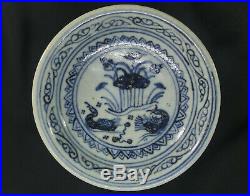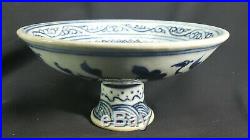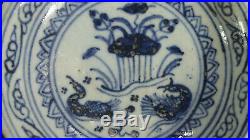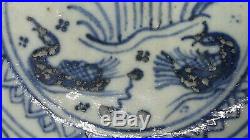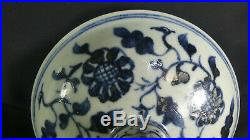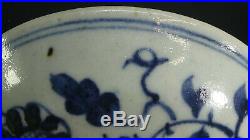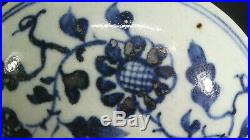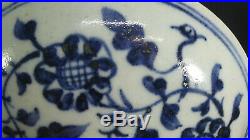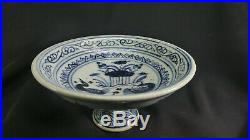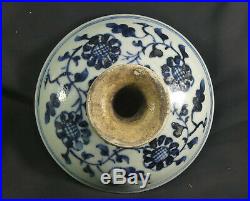 Antiques, Artifacts & Fine Collectibles. Chinese Ming Dynasty Porcelain Wedding Fruit Plate. Mandarin Ducks (Yun Yng) & Blue Floral Branches. High-Footed Blue & White Minyao (Folk Kiln). Two Mandarin Ducks Playing in Water.
According to Chinese legends, mandarin ducks are loyal, love their. Partner, and mate all through their life span. This is the reason why it is considered a lucky symbol for partners and those in love.
In Feng Shui, images of a pair of mandarin ducksusually figurines, paintings, or porcelain are often given as wedding gifts to enhance and attract love and symbolize wedded bliss. In China and Asia, they are also known as love ducks. In real life too, Mandarin Ducks are one partner ducks. Once they get separated, they wont be able to live for a long time; they become lonely and keep waiting for their partner to come backtill death reunites them. This thickly potted, raised, minyao. (folk kiln) porcelain plate measures about 5.32 (135 mm) in diameter x 2.7 (68 mm) tall and has the traditional, small, footed base that is 1.88 (48 mm) in diameter.
This tall, footed fruit plate weighs 9.5 oz. This small, serving plate dates to approximately the early Ming Dynasty (13681644), so it is over 500 years old!
It is unmarked, which was common for folk kiln Chinese porcelain that was not made for the upper classes, but instead used by ordinary people. The mated pair of Mandarin Ducks is swimming in a pond with lotus blossoms featured in the background. This magnificent cobalt blue and cream white, Ming Dynasty Fruit Plate is in good, museum quality condition with no cracks, repairs of restorations.
However, several spots of the underglaze, cobalt blue pigment was applied using the "heaping and piling" method that was in common use at this time, but appears to have not adhered to the cobalt blue during firing. These firing flaws are common when the kiln temperature was too hot when it was fired a second time. Oftentimes, these pieces would be destroyed and not offered for sale, therefore they are somewhat rareespecially coming from the Ming Dynasty over 500-years-ago!
Another kind of local cobalt, called Mineral Blue (shi qing or shizi qing), was sourced from Jiangxi province. Characterized by a dull leaden-blue color, it was commonly used for utilitarian or in Chinese minyao (folk kiln). As described above, there are lots of quite typical kiln blemishes (including: dimples, pits and a few iron spots), quite typical of hand-crafted porcelain of the Ming Dynasty.
Nonetheless, it is an exceptionally attractive specimen of the ancient Chinese art of pottery. If youd like an authentic ancient blue and white, Ming porcelain bowl to proudly display, you could not go wrong with this one.
What is an acceptable condition depends on whether the ceramic is imperial quality or not, and when it was made. This plate is not Imperial Ware. But rather was made for commoners. Use domestically in China during the Ming Dynasty.
For example, on a stoneware or porcelain vessel made in the 15th century, you would expect to see some kiln grit or kiln dust to the base and perhaps a firing flaw that would have occurred in the kiln. This lovely Ming bowl shows a light residue of kiln dust on the base, which is acceptable and would not be considered a condition issue. In traditional Chinese culture, Mandarin ducks are believed to be lifelong couples, unlike other species of ducks. Hence, they are regarded as a symbol of eternal love, conjugal affection, and fidelity, and are frequently featured in Chinese art and often given as wedding gifts. Both the males and females have crests, but the crest is more pronounced on the male.
Mandarin ducks are also thought to represent peace, fidelity, and plentiful offspring. The Chinese refer to Mandarin ducks as yuanyang simplified Chinese. , which respectively stand for male and female mandarin ducks. A Chinese proverb for loving couples uses the mandarin duck as a metaphor: " Two mandarin ducks playing in water " simplified Chinese.
A mandarin duck symbol is also used in Chinese weddings because in traditional Chinese lore, they symbolize wedded bliss and fidelity. The color blue gained special significance in the history of Chinese ceramics during the Tang dynasty (618-907).
The distinctive color in blue-glazed pottery and porcelain comes from cobalt ores imported from Persia, which were a scarce ingredient at the time and used in only limited quantities. Vainker, Chinese Pottery and Porcelain: From Prehistory to the Present (London, The British Museum Press, 1991).
Regina Krahl and Jessica Harrison-Hall, Chinese Ceramics: Highlights of the Sir Percival David Collection (British Museum Press, 2009). Ming Dynasty porcelains are well known internationally for their sophisticated design and simple, yet beautiful decorations. Century China, when the country was ruled by the powerful Ming Dynasty emperors and are made from the finest porcelain at the imperial Jingdezhen kilns.
Ming porcelain is highly prized around the world and it is easily recognized as one of Chinas symbols. During the Ming dynasty, ceramic technique evolved quickly and kilns were able to develop a more refined type of porcelain. During the reign of Chenghua, one of the biggest innovations was the preparation of cobalt, the element that gives Ming porcelain its beautiful blue nuances.
Enameled decoration was also perfected during the reign of Emperor. Spanning a period of almost three centuries, the Ming court was a large, complex and far-spread hierarchical organization. Each Ming emperor had his own aesthetic preferences and commissioned stunning porcelains with new color schemes, great variety in shapes of vessels, and multiple approaches to painted decoration, including ornamental, patterned motifs and more naturalistic scenes that resembled scroll paintings that are also on view. Most luxury goods were carefully controlled in their manufacture and regulated in their use as tableware and clothing conveyed explicit messages of power and status. Most Ming imperial porcelains were manufactured in an imperial ceramic factory in the town of Jingdezhen in southeastern China using a highly purified, compound clay composed of kaolin and porcelainor chinastone. The resulting high-fired, white-bodied ceramic ware had a hard, dense texture that was impermeable to liquid, translucent when thin, and resonant when struck; the perfect ground for colorful and inventive decoration. These innovations made Ming dynasty porcelain famous around the world. Now, they are sought by both museums and private collectors everywhere because of their exquisite beauty and value. Visual Culture and the Ming Court at the Freer Gallery of Art. Smithsonian's Freer Gallery of Art present an exhibition featuring both a large selection of the Ming dynasty blue-and-white porcelain coveted by 20th century Western collectors. July 3, 2004June 26, 2005. Vainker, Chinese pottery and porcelain: From Prehistory to the Present (London, The British Museum Press, 1991). Museum of Chinese History, Beijing, China. Smithsonian Museum, Sackler & Freer Gallery, WDC. This bowl was obtained from a private collector who lived in Beijing, China. Please look carefully at the photos, taken with a macro lens indoors. The stands are not part of the sale. Would make a wonderful addition to your collection or a Super gift! Blue & White Footed Fruit Plate! Wedding Gift with Mandarin Ducks" is in sale since Tuesday, July 2, 2019. This item is in the category "Antiques\Asian Antiques\China\Bowls". The seller is "houghton-usa" and is located in Sequim, Washington. This item can be shipped to United States, Canada, United Kingdom, Germany, Japan, France, Australia.
Type: Bowls
Region of Origin: China
Age: Pre-1800
Primary Material: Porcelain & Pottery
Maker: Jingdezhen Kilns, China
Original/Reproduction: Antique Original
Color: Blue & White