Brass Decorative Plate Handmade 16th C. Uzbek Style Floral, Gold, Blue, White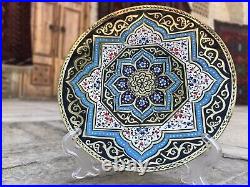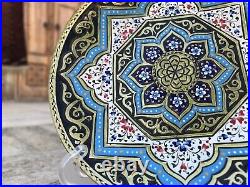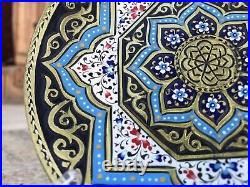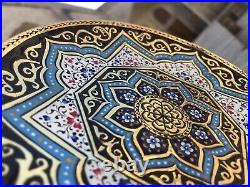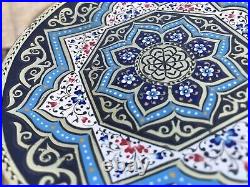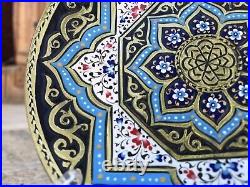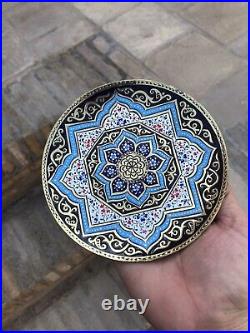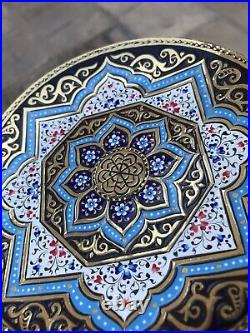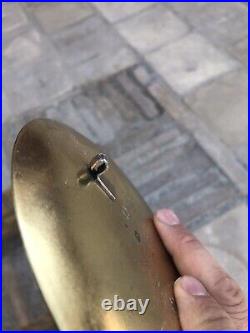 Hand Engraved Decorative Plate in Brass and Enamel - 16th Century Style Designs from Bukhara, Uzbekistan. This richly detailed decorative plate has been hand carved from brass and hand painted with cold enamel, in the traditional style of Bukhara, Uzbekistan. This classic style dates from the 16th century, when the'islimiy' floral motif was extremely popular with the Bukhara Old School and practiced by many masters of metal chasing.
First, the design is imagined and applied to the flat brass plate. Then the plate is'chased' by hand, and the engraving creates a relief pattern. Finally, cold enamel is hand painted into the recesses with precision.
This brass plate would make a wonderful wall decoration or a fine addition to any collector's cabinet, but it also remains fully functional as a plate. The enamel is color fast, meaning you can serve hot or cold food on it. It makes a stunning centerpiece for serving at parties. 100% handmade in Bukhara, Uzbekistan.
Diameter: Approx 5 ½ inches (14 cm). Traditional'islimiy' floral design in green, gold and black. Hand engraved and painted details. Please note, as this is an entirely handmade product, your plate may differ slightly from the images here. Metal chasing is the ancient practice of embossing and carving metal to create intricate patterns to make highly decorative items.
It has a huge cultural significance in Uzbekistan, and has been practiced here since the 4th millennium BC. Originally used to decorate knives and jewelry, the artform of metal chasing expanded significantly in the 15th and 16th centuries, and was used to create plates, jugs, coffee pots, tea sets and a host of other items, all engraved with exquisite detail. Thank you for looking at my work.
I carve brass, nickel, silver, bronze and copper into decorative plates, jewelry, coffee pots and other beautiful items, and then color them with enamel. In Uzbekistan, we call the art form'kandakor'. I fell in love with metal carving, or metal chasing as it is also known, as a child. From age 11 I began to hone my craft, and eventually I was able to have my own workshop where I create my own unique designs by hand, following in the footsteps of the kandakor masters of the 15th and 16th centuries.
To see me at work, please visit the'About Us' section in my shop to view a video of the metal chasing process. My work is a true calling for me, and I like to think of the art I produce as a song in metal.
I hope you will agree. I love to create bespoke designs for customers, so if you have something special in mind, please don't hesitate to contact me. Transit times vary depending on postal operational condition and weather conditions.
Upon receiving your return, the item will be reviewed by our Quality Assurance department. Please note that items showing signs of wear or those that have been engraved, altered, resized, or damaged in any way cannot be accepted for return.
If you have any questions, please message us first before purchasing.